Why DIY Lightning Branding? 
Because you'll gain insight, confidence and the power to profit. It's the kind of information you're not going to find everywhere. It's the product of doing work with a system developed by people who've been in the trenches every day, doing exactly one thing: working to make the customer feel the right thing and take action. And now, that system is available to you right here. Right now. You can do it. You'll enjoy doing it because it's fun.
DIY Lightning Branding is an easy to follow, step-by-step course that guides you to creating an electrified brand. A brand that will lead you to faster revenue generation.
When we do it all for you, the cost is more than some start-ups are in a position to take on. We get it. But that doesn't mean that you won't benefit greatly from starting with the power ofa Lighting Brand.
You'll not only be able to use this to launch your new brand, but it will work for any business you take on down the road.
When you complete this course, you will have some accomplished something most small-business owners never do:
 You'll have developed your own evocative brand name and tagline informed by your course work
You'll develop a Branding Brief that details the essence of your brand—and can be understood by anyone working on your behalf. (Until you've seen this in action, it's hard to comprehend how much power this gives you. This is your ironclad manifesto for how your brand behaves in the world.)
You'll have the confidence to hire a good designer or art director and tell them exactly what kind of brand feeling you want to convey. (This is much different than getting a flat, generic logo that could be for any business. Now, you are giving a good designer the direction to explore better, more evocative work on your behalf.)
You'll be armed with the certainty of what your Lightning Brand means and how it should behave in the world.
There's also a 30-day money-back guarantee. It begins the day you sign up. If within 30 days you decide Lighting Branding is not for you, you get your money back.
The other guarantee is this: you've never done anything for your business like Lightning Branding.
"I love this course. Very consumable and not overwhelming for someone who has no marketing background. Easy! I've already recommended it to several peers!!"
-Millicent Tracy
Course Curriculum
Available in days

days after you enroll

Lightning Branding DIY
Available in days

days after you enroll

The Power Of You
Available in days

days after you enroll

Building Your Brand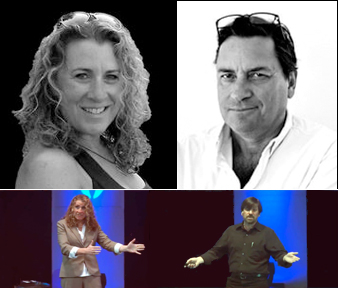 Your guides to your own Lightning Brand
Honey & Blaine Parker run Slow Burn Marketing, an agency that specializes in big-brand thinking for small-business marketing. For more than a decade, they've been creating and implementing branding for small-business owners across the country, as well as internationally. The results of their work has guided business owners to realizing and passing their goals. The Parkers have also spoken to groups of business owners from Los Angeles to Singapore, and host a small-business podcast about entrepreneurial couples. Prior to Slow Burn Marketing, they each had careers in advertising. Honey was an SVP/Creative at the legendary Grey Advertising before becoming a gun for hire. Blaine was an advertising creative director for the Salem network, serving local, regional and national advertisers from coast to coast. He's also a voiceover performer, who you may have heard sell you things like Sizzler, State Farm auto insurance and Bud Light. They've both won their share of advertising awards, but feel that the thrill of ROI is much more exciting than any trophy.